Once a year(dates to be announced), Smokey's Ski Patrol hosts a Family Pig Roast.  We bring in a Canadian Grade "A" pig and slowly roast over our custom made spit.  Our Ski Patrol volunteers begin the roasting process early in the morning, some starting as early as 5:30 - 6:00am the morning of the roast.  On the menu with the roasted pork we offer salads and fries, and as always our canteen and bar are open for your convenience.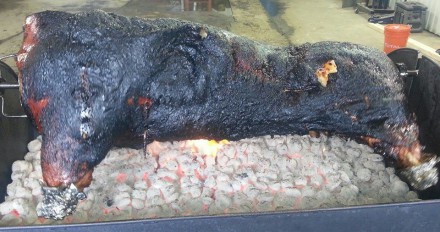 While waiting for the evening event, take to the hills.  The slopes remain open as long as the event is taking place.  Rather sit back and not ski?  Relax in the Smokey Bar and listen to local talent take to the mic.  As with most special events at Smokey Mountain, our sound system is open to anyone willing to get up and perform. 
Tickets go on sale a week before the event.