Join us Sunday, April 3, 2016, as the Smokey Mountain Racers and Thrashers, with the help of Smokey staff and volunteers, host a Ski-A-Thon**. This event is open to the general public who are encouraged to also grab a sponsor sheet, register a team and spend a full day on the slopes with us.  Throughout the day we hold different games and events for participants of all ages.  Though not a requirement, participants have started to dress up for this event.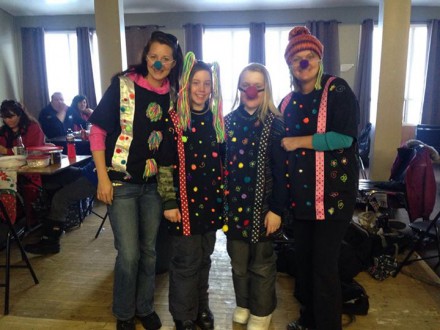 The money raised helps support Hill and Ski Club improvment.  The event runs 12 hours with each team required to have at least one member on the slopes at all times.  Awards are presented for the most money raised by a team and best costume, as well as individual and team winners from the day's games and events.  Our Smokey Cafeteria is open throughout the day as does the our licensed bar later in the day.  The event closes off with one of our famous Steak Nights(provide you own bbq items) with our indoor charcoal barbecue open for those who want to use it. 
We look forward to seeing you at our next Ski-A-Thon!
Download your printable 2016 Sponsor Form and 2016 Team Registrations Form.
**Certain Restrictions and conditions may apply